Description
The paediatric waterproof plaster arm cast cover bandage protector is specially designed for children.
The surface of the product is printed with a beautiful picture. The waterproof cast cover is more beautiful and practical when used, and the children are more acceptable to it.
It is a self-sealing, self-supporting garment which prevents the penetration of water to plaster casts and wound dressings on arms or legs during bathing. It is simple and comfortable to use and will last through the average user's duration of treatment.
Signs and symptoms of a fracture
Older children will usually be able to tell you where they are sore and can explain what happened to cause the injury. This can make it easier to identify if a fracture has occurred. It can be more difficult to identify a fracture in infants or toddlers. They may cry and not use the affected area, but there may be no obvious injury.
If you think your child has a fracture, they may have the following symptoms:
pain or tenderness at the injury site
swelling or redness around the injury
deformity (unusual shape) of the injured area
not wanting to move or use the injured area.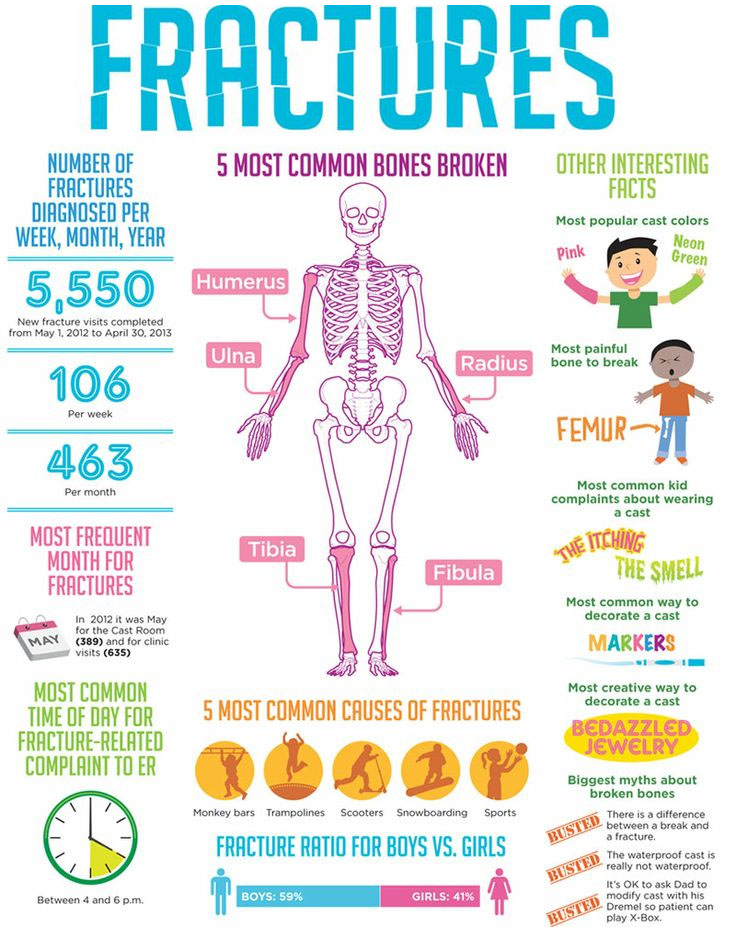 www.sportsandspineortho.com/orthopaedics/most-common-bone-fractures-kids/
How can I keep my cast in good shape?
Try these tips:
Keep it clean. Keep dirt and sand away from the inside of your child's cast.
Skip toiletries. Avoid placing powder, lotion or deodorant on or near the cast.
Leave adjustments to your child's doctor. Don't pull the padding out of your child's cast. Don't trim the cast or break off rough edges without first asking your child's doctor.
How To Know If Your Bone Is Healing?
Considering that this healing process involves a lot of different steps and stages, it is quite common for people to not actually notice the healing results until the bone is already partially fixed. If you are not sure what to look for, then you might never actually be able to tell when the healing has started.
Identifying some of these common signs of a healing bone can actually be quite important. There are a lot of activities that you need to avoid while your bones are healing, and it might also become an important time to get extra rest or keep some emergency painkillers around just in case.
Decreased pain
Increased motion/movement
Reduction in swelling
Reduced bruising
For more information, contact us 01274 965089 or check out our website at www.nicheofficesolutions.co.uk / www.nicheofficesolutions.co.uk/niche-nhs
Further clinical information can be found on our blog page: www.nicheofficesolutions.co.uk/category/niche-healthcare-news
For products not found on our online website, please view our Healthcare catalogues: www.nicheofficesolutions.co.uk/healthcare-catalogues
View our Healthcare YouTube videos Playlist
If you have any additional questions, drop us an email at info@nicheofficesolutions.co.uk