The Best IT Tablets for 2020, take your pick!
Its 2020 now, a new year and a new decade. But you're still stuck with the same tablet… you need a new one! Don't worry though, we can help you. Here's a list of the best tablets for 2020, take your pick!
All Prices are Including VAT.
1 – Samsung Galaxy Tab S5E
Our Price – £299.00
Pros
+ Genuinely Good Android Tablet
+ Sharp, Vibrant Screen
+ Four-Speaker Sound by AKG
Cons
– No Headphone Jack
– Doesn't Support HDR
This is Samsung's newest tablet, and while not quite as powerful as the Samsung Galaxy Tab S6, it's probably better value for money – if your needs aren't that demanding and you want a well-built Android tablet with an excellent screen, the Samsung Galaxy Tab S5e definitely stands out as one of the best tablets of 2020.
You don't get any official stylus with this, so you can't give your fingers a rest, but there is an official keyboard dock and cover (available as an optional extra) if you need to do a lot of typing.
2 – Microsoft Surface Pro 7 (2019)
Our Price – £739.99
Pros
+ PC Power, Tablet Portability
+ Full Windows Experience
+ Premium Design and Build
Cons
– Solid Keyboard and Pen Stylus
– Minor Updates From the Pro 6
– Battery Life
The Surface Pro 7 is everything we know and love from the Surface series: the power of Windows 10 and the versatility of a tablet or 2-in-1 form factor.
We should point out that, as normal, the Surface Pro Type Cover and Surface Pen are optional extras – so you're going to need to pay a bit more cash to make the very most of everything the Surface Pro 7 has to offer. As far as desktop experiences in tablet form factors go though, this is hard to beat.
3 – Google Pixel Slate
Our Price – £699.00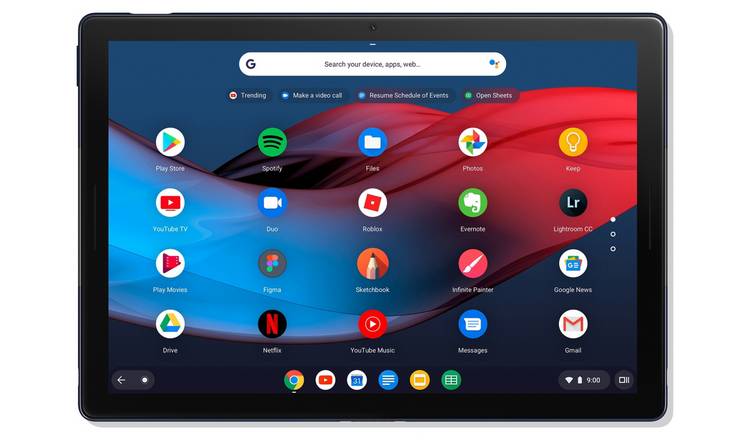 Pros
+ Excellent Speakers
+ Hardware is Well Built
+ Fast Fingerprint Sensor
Cons
– Android Apps Still Feel Alien
– No Headphone Jack
– No Expandable Storage
The Pixel Slate is Google's latest attempt to create a premium Chrome OS device. It follows the legacy set by the older Pixelbook and takes aim at the top-end tablet-come-laptop market currently dominated by the iPad Pro and Surface Pro.
4 – Samsung Galaxy Tab A
Our Price – £219.99
Pros
+ Great Price
+ Solid, sharp screen
+ Good Battery Life
Cons
– Limited Storage
– Limited Graphics Power
– Minor System Lag
The Samsung Galaxy Tab A is a real alternative to an iPad, with a sharp and colourful screen and a design very close to that of £400 tablets. All in all, it's the best budget Android tablet around if you don't like the restrictive approach of the Amazon Fire HD 10.
5 – Amazon Fire HD 10
Our Price – £149.99
Pros
+ Amazing Speaker Sound
+ Good Performance
+ Alexa is Useful
Cons
– Underwhelming Screen
– Weak App Selection
– Amazon's Fire OS
You won't find a better tablet value than the Amazon Fire HD 10. It's cheap and powerful, and it finally brings a solid display into Amazon's slate lineup. It's the ideal machine for binge watching, though be prepared to live without Google's apps.
6 – Huawei MediaPad T3 (10-Inch)
Our Price – £129.00
Pros
+ Decent Battery Life
+ Quite Compact
+ Optional LTE and Call Function
Cons
– GPS Not Very Accurate
– Long Charging Times
– Weak Cameras
The Huawei MediaPad T3 10 is not a particularly good deal, but rather an average device in its price range. Only the high processor performance for a low price can be useful in some situations. Aside from that, there are stronger competitors in the same price range, such as the Galaxy Tab A from Samsung, which lasts much longer and offers considerably higher graphics performance.
7 – Amazon Fire HD 8
Our Price – £79.99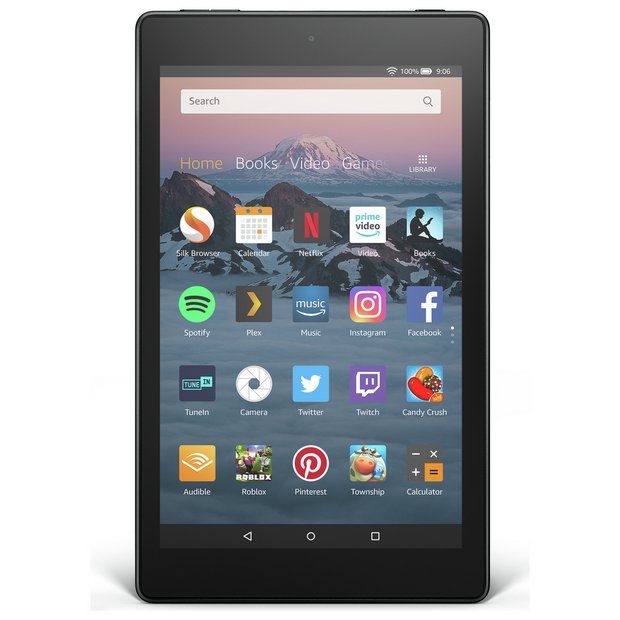 Pros
+ Decent Performance
+ Amazing Battery Life
+ Great Prime Integration
Cons
– Screen Quality
– Ad-riddled Interface
8 – Lenovo Tab 4 (8-inch)
Our Price – £159.27
Pros
+ Nice Display
+ Design Is Nice
+ Good Battery Life
Cons
– Only 16GB of Storage
– Camera's Aren't Amazing
– No USB Type-C
---
We also have a short survey open on 'Tablets'. Click here to take part.
---
All these items are available directly from us. You can purchase yours from our online shop, by calling 01274 965088, or you can email us at info@nicheofficesolutions.co.uk
/*postmeta*/?> /*commemt start*/?>